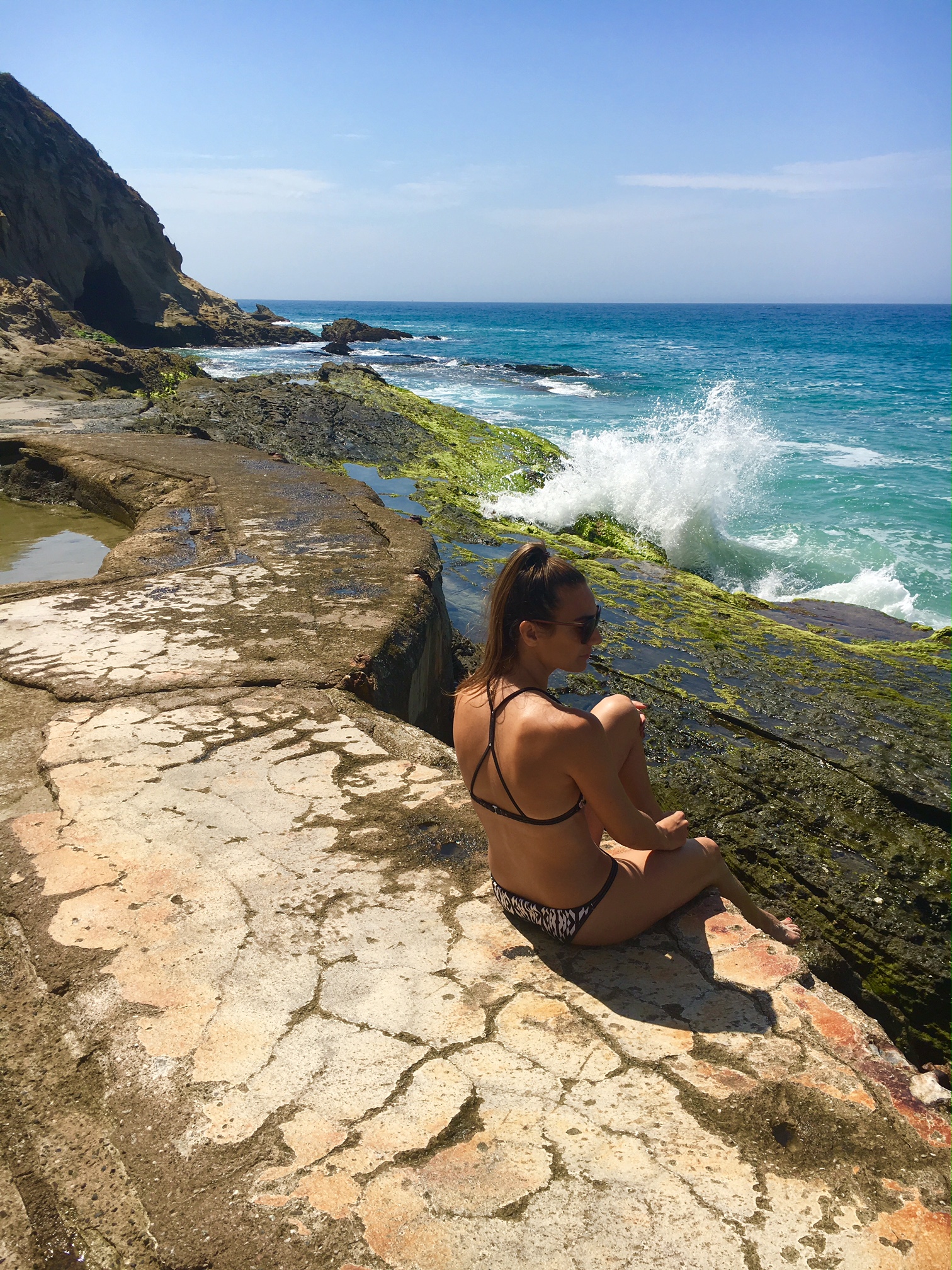 I've heard about 1000 Steps Beach in Laguna for quite some time now. It has been on my Southern CA bucket list because I have been wanting to see the tide pools and gorgeous aqua blue ocean! I finally got to check this one off my list over Labor Day weekend! Knowing that this beach is in a residential area with no parking lot, coupled with the hight traffic of the holiday weekend, I planned ahead and arrived at 9am. I happily scored a parking lot right across the street from the beach entrance! If you are planning a visit, the gate to the beach is at the corner of Coast Highway and 9th. There is small sign on the chain link fence where the opening to the set of steps leading you to the beach is. If you see this then you are in the right spot!
Morning is actually a great time to arrive at this beach, particularly if you want to utilize the set of steps as a work out, which is exactly what my fiancè and I did! If you wait until late morning or afternoon to start your step work out, you will be battling not only the high heat but the increased foot traffic of people with their arms full of coolers and beach chairs heading down to the beach. So my advice is arrive early, get your parking spot and beat the flocks of people which will make your experience that much more enjoyable.
I was surprised to find that there are only 223 steps and not 1000. I am not quite sure where the name 1000 Steps Beach came from. Perhaps it is an exaggeration, however, I promise if you decide to do this workout and you climb the steps multiple times, you will definitely work up a sweat! We went up and down the steps 4 times and my legs felt like jello after! I loved this work out! It was so much fun to mix it up and try something different and well…the views of the ocean were not a bad motivator!
After finishing our 1000 steps work out (892 to be exact), Paul and I grabbed our beach stuff from our car and headed down the steps yet another time! One more reason why heading to the beach early is great, is you get to appreciate the quiet serenity of the ocean and let yourself relax without tons of people nearby. Enjoy this for a little bit, because it won't last too long! The beach definitely gets busy during the summer months and after seeing 1000 Steps Beach for myself, I can certainly see why. The pristine sand and aqua blue water make you feel like you are on a Caribbean island. The waves are big but that didn't stop us from taking a swim. The water was nice and warm and we played like kids jumping around and running from the crashing waves.
1000 Steps Beach is also known for its tide pools and caves. I read in advance that the best time to enjoy the tide pools is at low tide, so I looked up tide times and we took a stroll down the left side of the beach at 1:24, the predicted time of low tide.  I have seen amazing photos of people swimming in the tide pool looking over the ocean and I was hoping to be able to do the same. Unfortunately, there wasn't any water in it at low tide. Even though the tide pool wasn't full, it was still an absolutely beautiful spot to sit and watch the waves crash. The caves just past the tide pool were closed off and lifeguards were on duty giving us serious side eye, so we did not attempt to walk past the tide pool.
We had such a fun and relaxing day at this beautiful beach. I hope you have a chance to visit 1000 Steps Beach too!
1000 Steps Beach/ September 9, 2017/  © Jill E. Gallien