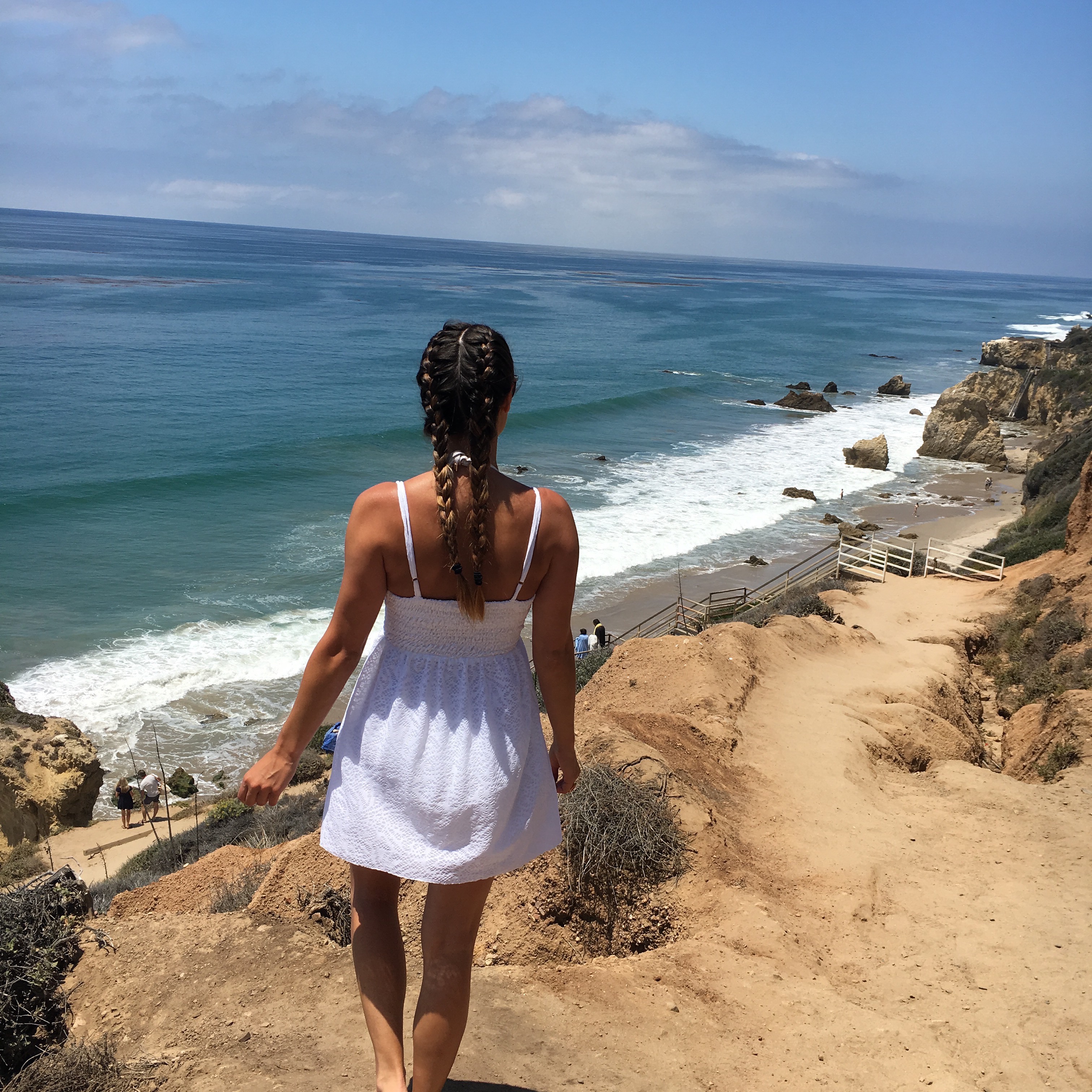 Malibu is one of those places on earth that leaves me awestruck with its beauty. A hike, a jaunt on the beach and a pit stop at a fruit stand on the way home make my Saturday complete. As a new California resident I can't help but spend my free time discovering the endless adventures that the west coast has to offer. Opening my soul up to new journeys is indescribably freeing to me. I can't help but sense a connection to the earth as my eyes take in sights for the first time. I've made a pact with myself to explore somewhere or something new every weekend. Malibu, stop 1, how could it not be?
Coral Canyon: My pick for the morning exploration, rewards steep hill hiking and aching legs with endless views of the bright blue ocean; a good excuse to pause along the trails to take it all in. Even though the heat makes this hike more arduous, the smile on my face doesn't disappear. I can't help but feel my heart open for this picturesque place.
El Matador State Beach: Time to cool off and luck is on our side today because we got ourselves a prime parking spot at the beach! Maybe it's the positive vibes pouring out from our spirits that this beautiful day has spurred, putting the parking gods on our side. Another trek, this time downhill, with sweeping views of bright green hills cut open at the cliff, bleeding out shades of coral and clay. A narrow winding dirt path leads us to a staircase ending on the sand. Waves crash into rock formations hollowed out into taverns that we explore with excitement. This beach walk with adventure is such an amazing sight that many use it as a backdrop for photo shoots. I simply cannot get over the eye candy that Mother Nature so graciously blessed us with. I am in awe as I am taking it all in.
Fruit Stand Fresh: On the way back after a long afternoon we decide to discover the back roads; the ones that wind and dip through rolling hills and peak a boo views of the ocean,leading to a fruit stand somewhere between Malibu and home. The blistering heat has us wanting the fresh fruit and coconut water advertised on the handcrafted roadway sign, so we pull off into the gravel and wait patiently as the man chops fruit from the back of his truck and hands it to us in a plastic bag. The coconut I've ordered is opened with some sort of pick that twists open the hard shell allowing space for a straw. It tastes much different than island coconuts, much better in fact, just like the dried shredded coconut you can purchase from the supermarket. This perfect treat absolutely made my day! My spontaneous roadside pit stop inspired Fruit Stand Fresh, marking the beginning of a journey to not only discovering the new, but opening myself up to feeling free, alive and connected to the world.
Adventures in Malibu/ May 11, 2016/  © Jill E. Gallien