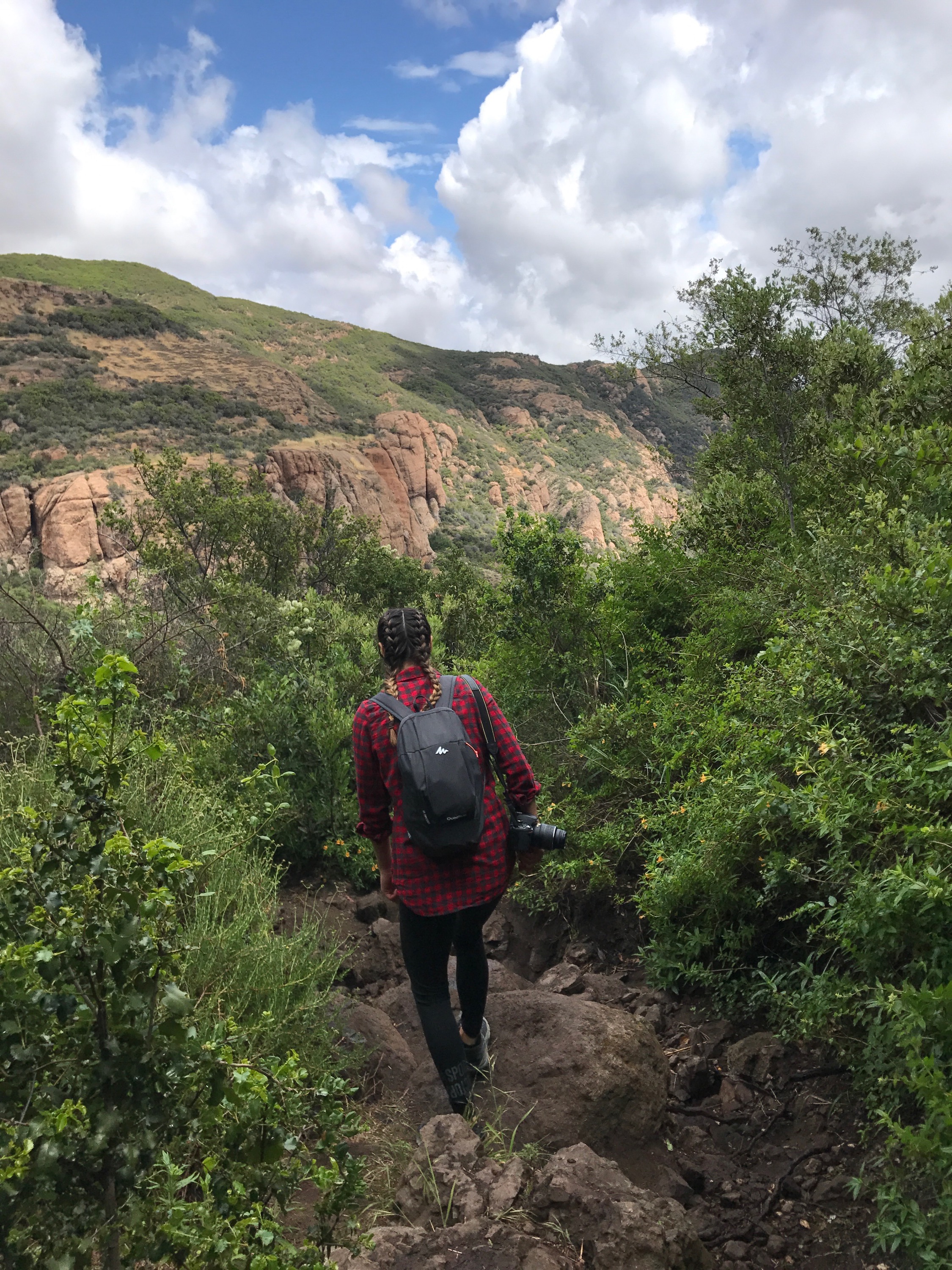 As a sufferer of chronic pain, I find it difficult to introduce a new physical challenge, because I dread the pain that can come along with a different routine. The down side is, if I don't challenge myself then I will be stuck in the same static exercise regimen, which will only increase my strength until I max out and level off.
I recently relocated to Los Angeles from Boston, specifically for the beautiful year round weather. With so many different outdoor hiking options in Southern California I found myself wanting to explore because it was a good way to get outside and enjoy nature.  I was still a bit hesitant that I could increase pain if I started hiking. It is evident that mental roadblocks can be just as arduous to overcome as physical ones.  I had conditioned myself to be scared of any activity outside from my physical therapy routine and for a good reason, I was afraid of getting hurt. I suffer from cervical stenosis, a narrowing of the spinal canal. Any inflammation can be detrimental to my health therefore, I tend to err on the side of caution and let fear take the driver's set.  It makes perfect sense not to be radical and take on something drastic and risky like sky diving, but I think starting at easy level hikes and building up my strength is perfectly ok to add to my work out routine, so I decided it was time to kick fear right in the face and go for it!
The Runyon Canyon was the first local hike I decided to try!  I quickly realized that my endurance level was pretty sad. A few times a week on the elliptical machine was clearly not cutting it. The route I took consisted of climbing up steep inclines for the first half and then down the trail, which was much easier for the last half. When I was finished with the 45 minute hike I was exhausted for the rest of the day. I really enjoyed the challenge and kept at the same hike 2 times a week then gradually progressed and added on a third time. My recovery got better with each hike so I kept at it. I decided to add on protein shakes upon completion and that made a huge difference! I needed the extra oomph to aid muscle recovery.
The Runyon Canyon closed for maintenance which happened to be a good opportunity to get myself to venture out and start trying different hikes. Of course, this was outside my comfort level but the whole point here was to
get myself to do a physical activity that I didn't think I could do. I kept at a slow pace completing 1.5-2 mile hikes but still remained hesitant to take on longer trails. My steady pace and consistent recovery over two months time boosted my confidence and I finally took on a 3.5 mile hike. I felt really good about completing it and was sure to drink my protein shake right after I was done. By the end of the day I was sore and tired, but I listened to my body and rested. It was a trade off to hike and know that the rest of the day had to be spent on the couch lounging with a heating pad on my neck, but I knew that it was part of the process and at some point, If I remained consistent, I wouldn't need to take the rest of the day off because my muscles would continue to grow stronger with each hike.
I learned that it is ok to try something new, but it is best to take a slow, gradual approach instead of pushing myself too much and jumping into an unrealistic level right at the beginning. Now three and half months of living in LA and I completed a 6 mile hike (refer to my last blog post when I ventured to Point Lobos Natural Reserve in Carmel by the Sea.)  For this hike I packed a lunch, an egg sandwich with ample protein, and ate it at the half way point, so that I had enough energy to complete the trail. That evening I was exhausted and the next day I was feeling cranky and achy, but the pain was bearable. I kept on the motto of listening to my body and I rested for two days to give my muscles time to relax.
I can't explain how good I feel about myself for hiking 6 miles when three months ago I didn't think I could even hike 1 mile. For any pain suffers out there who want to try hiking or adding on a new physical routine here is what I learned:
Proceed with caution
Allow time to rest and recover
Stretch before and after
Eat protein before and after for fuel and muscle recovery (this made a huge difference in recovery time)
Test out hiking at the end of your workday or on a weekend to allow ample time to recover
I feel such a big sense of accomplishment for not letting my chronic pain and health condition prevent me from trying something new. Hiking, being out in nature and soaking up the sunlight has had such a positive effect on my soul.
Chronic Pain + Hiking/ June 7, 2016/  © Jill E. Gallien
A special thank you to my boyfriend Paul for rooting me on every step of the way!