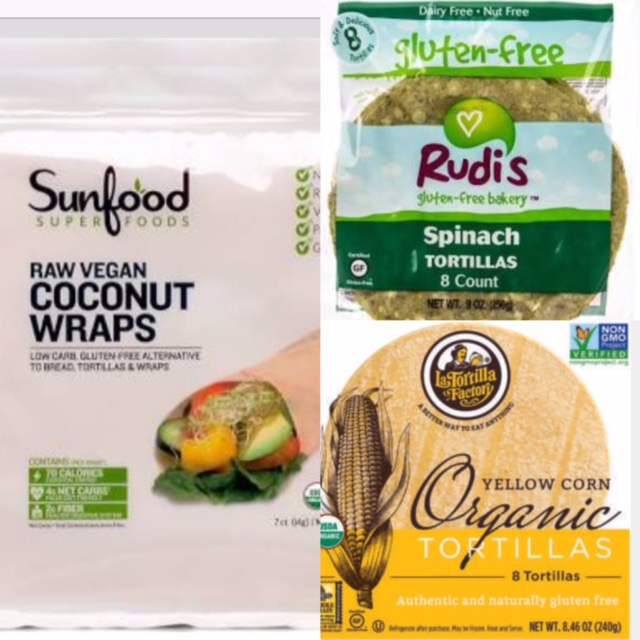 When I find something organic that I absolutely love, I just have to share it! Often times when I am searching for a specific organic food item I have to go to several stores before I find what I am looking for. Most recently, I have been on the hunt for organic gluten free wraps. One would think you could go to any healthy grocery store and find this food item, but unfortunately that is not the case!  I tried three different grocery stores before I finally found a great option.
Now, let me explain why I am so excited about this. I recently ditched bread. I was eating a large amount of whole grain breads, wheat wraps, grain cereals, waffles and pastas, mainly because I wanted to ensure I was consuming enough calories to fuel my workouts and because, who am I kidding, bread is delicious! When my stomach started blowing up like a balloon, I realized I was consuming way too much gluten and my gut did not appreciate it. I eat a lot of wraps with scrambled eggs for breakfast and turkey and tuna sandwiches for lunch because they are easy to take when I am on the go. I have been looking to switch out wheat wraps and breads with an organic gluten free option. This task was way more difficult than I had anticipated.
My first stop was Whole Foods. Usually they offer a broad selection of organic foods, so I thought this would be a one and done! I was disappointed to discover that my local Whole Foods didn't have my gluten free organic wraps.  I was anxious to start my gluten free diet, so I grabbed the next best thing, Rudi's Spinach Tortillas.  I put one in the oven for a few minutes to heat so it wouldn't crumble apart and made a turkey sandwich. It tasted great! I decided to mull over the ingredients because I really try to stick to a 100% organic diet at home and this product is not organic. I was not happy about the fillers listed on the package which include: sodium bicarbonate, monocalcium phosphate, xanthan gum and guar gum. I didn't want to settle for a wrap with ingredients that are unfamiliar to me, so back to the grocery store I went.
Next, I tried Ralph's because they also tend to have some good organic options. I picked up a bag of organic corn tortillas and gave them a try. I was not a big fan of the taste and consistency. They are an ok option but not one I could get used to consuming on a daily basis.
There has to be a gluten free wrap option that is also organic and tastes good! Why, you ask. Because, I LOVE sandwiches and I need them in my life. This desperate organic loving girl knew she had one more option and that would be the most expensive grocery store in Los Angeles, Erewhon. I am committed to this gluten free diet for a little while to see if it helps my gut function better, so off I went, half scared that I would spend my entire paycheck on all the fun healthy items I would discover and half excited that I would finally find what I was looking for. I scoured the refrigerated bread section and couldn't find any options.  I asked a grocery store worker to assist me in my search and he pointed to the shelf behind me. There were some nasty, hard looking wraps that looked and felt like cardboard. I contemplated just giving it whirl but I knew they would be a fail. Let's get real, chewing on green vegan cardboard is a little too hipster even for me.  I turned behind me and to my surprise I saw another option Sunfood Superfoods coconut wraps. When I flipped the package over to peruse the ingredients I was happy to find there are only 3: raw organic coconut meat, raw organic coconut water and organic unrefined coconut oil. I am sure your first question is, what the hell is coconut meat? I had to Google that one and turns out it is just the flesh of the coconut.
Ok, time to test these bad boys out. I made an all organic turkey sandwich with alfalfa sprouts, shredded carrots and cucumbers, pickles, mayo, olive oil, oregano, salt and pepper. Wow, the moment I have been waiting for, the coconut wraps were absolutely delicious! I was worried the coconut flavor wouldn't mesh well with the ingredients I added but, I actually could only pick up subtle hints of coconut. Yay, I can resume my sandwich loving life free of gluten! The cost for these coconut wraps is a hefty $12.99 for a pack of 7. This price is a little steep, but I would say it is worth it to have a healthy option that I feel good about putting in my body.
If you are a lover of healthy organic foods and don't want to overload your body with gluten, try ditching the bread and using Sunfood Superfoods Coconut Wraps! I am so happy I found them and if you are anything like me, you will be too! PS: you can order them online here.
Ditch The Bread/ May 21, 2017/  © Jill E. Gallien