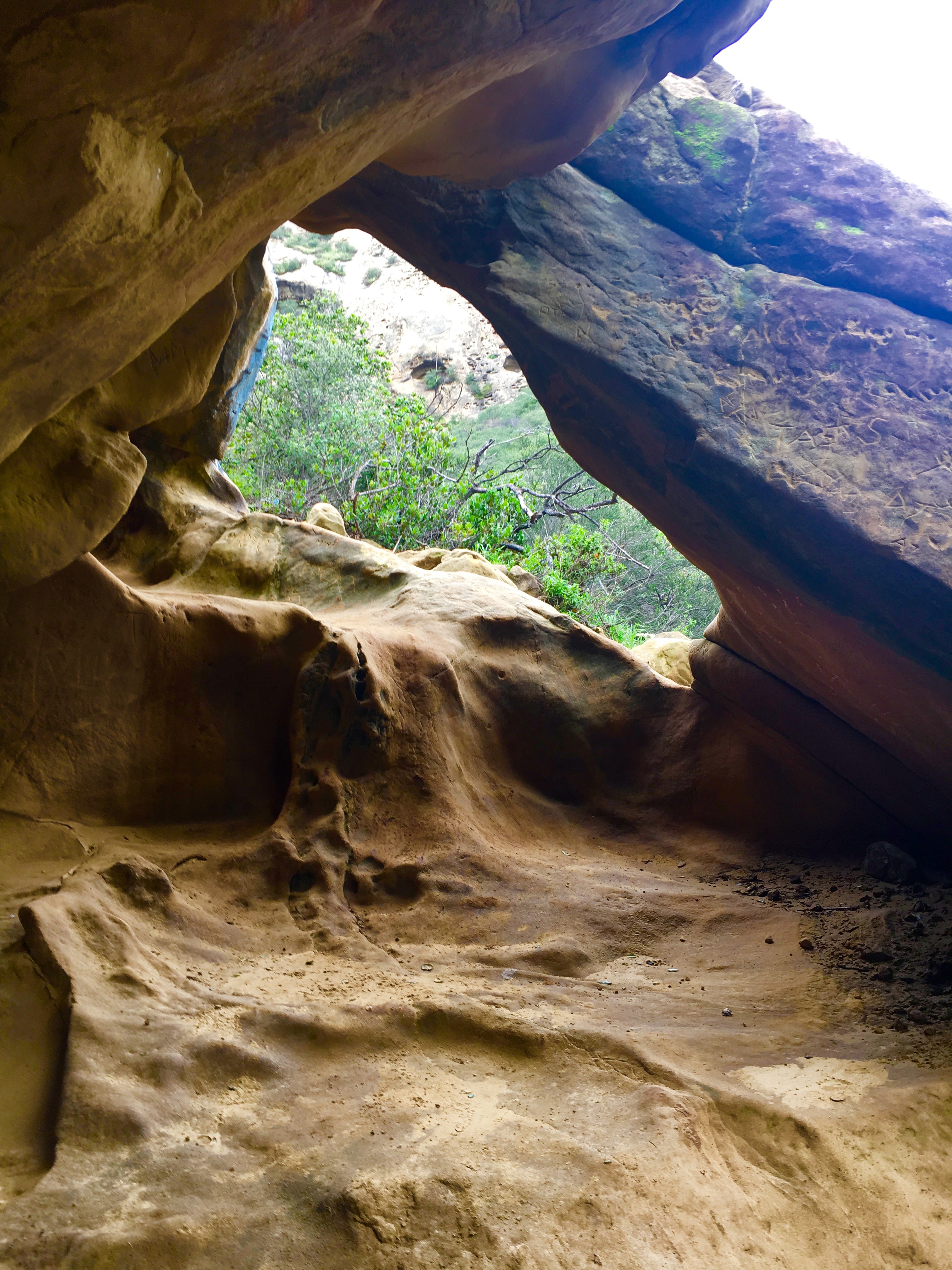 I discovered Gaviota Wind Caves when I was looking for a cool place to hike near Santa Barbara. Gaviota, California is about 30 minutes outside Santa Barbara and the wind caves can be found in the state park right off the 101. From the parking lot head up the road and you will see a gate on the right side. The pavement path will take you to the entrance of the hike marked by a sign with the trail information.
Follow the path up the hill for a 2.5 mile out and back hike. There is an immediate incline so prepare for a bit of work. The path gets narrow and at times it becomes single file. I recommend wearing long sleeves and pants as some of the brush is overgrown. After the first hill the land levels off. Take a quick few steps to the right for an amazing view and a waterfall. Be careful as the edge drops off. After taking in the view, turn around and continue back up the trail. The path has a few small forks which reconnect quickly and a good number of switchbacks, but keep your eye on the caves and you will know you are headed in the right direction.
I happened to take this hike while it was raining and the trails were super muddy. I suggest wearing shoes with traction rain or shine due to the clay-like soil that crumbles easily.
You will encounter a set of caves that have some graffiti. This is a great resting stop to have lunch or just take in the views. You can climb around up to the top of these caves for stunning views of the rolling greens hills and the ocean. You can see more caves up in the distance. I didn't try to wonder any further as the remainder of the trail looks like a tough scramble and the rain was really starting to come down. I read that are more caves up ahead but, I am not sure if they are the set of caves you can see in the distance. There are also hot springs in the area. Check out the CA Parks and Recreation website for more information. For directions download the AllTrails app and enter in Gaviota Wind Caves or click this link. Hit the "directions" icon and your navigation will open up.
Gaviota Wind Caves
Beach to Backcountry Trail: 2.5 miles, out and back
Trail Terrain: narrow, uphill inclines, overgrown plants in parts during spring, extremely slippery when wet, clay earth crumbles easily, moderate
Address: 3 Hollister Ranch Road, Gaviota, CA 93117
Gaviota Wind Caves/ February 20, 2017/  © Jill E. Gallien