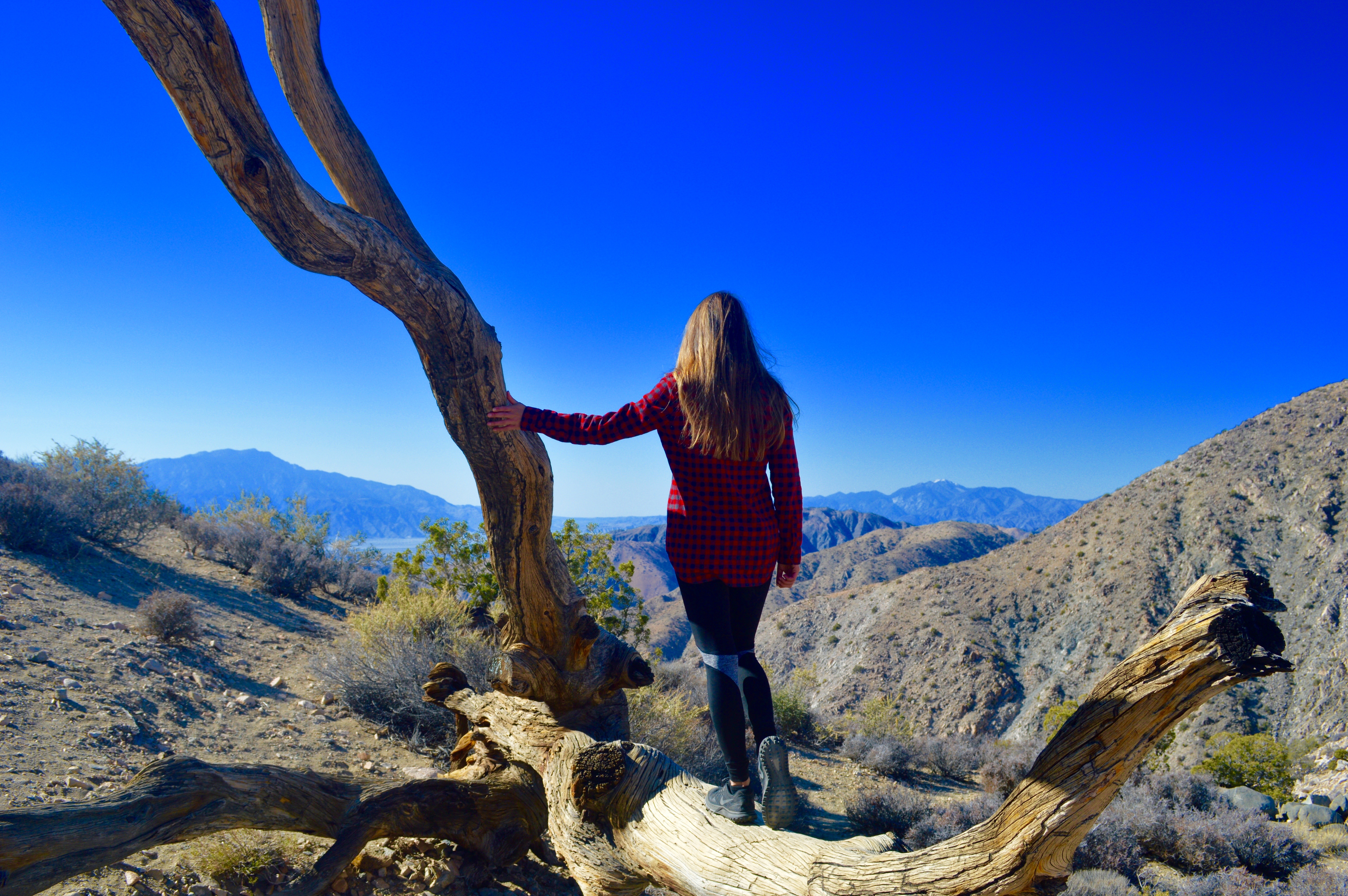 The desert is a perfect place for a quick fall or winter getaway from Los Angeles, especially when the weather cools down. With only 2 days to spend, Joshua Tree National Park and Palm Springs are must sees for a nice mix of exploring and relaxation; I recommend starting with the adventure and ending with the relaxation. Depending on where you are located and of course LA traffic, Joshua Tree can be about a 3 hour trip. Palm Springs is about 45 minutes plus from the park.
Joshua Tree 
What to Wear
I advise on always checking the weather in the desert because it changes from region to region. Fall months can be a mix of hot and cold depending on the time of day. When I checked the weather the day before my trip it was predicted to be in the 40s however, when I arrived I was super hot and had to take off layers. As the day progressed, it cooled and I needed to put my long sleeve top and button up flannel back on.
Long Exercise Pants
Hiking Boots or Trail Running Sneakers b/c they have good grips for the slippery, rocky terrain
Tank Top
Long Sleeve Shirt
Button or Zip Up Sweater
Sunglasses
What to Pack
Extra Clothing: Jacket, Scarves, Hat
Sunscreen
LOTS of Water
A Drink with Electrolytes – organic coconut water or juice
Hearty Lunch
Plenty of Snacks – select those high in protein like mixed nuts and/or hard boiled eggs
Camera, Go Pro, Selfie Stick Extreme to capture those amazing views
Back Pack
First Aid Kit
Portable Phone Charger
How to Prepare
Pack a small cooler bag with ice packs for your food. When you arrive take what you need in your backpack as you go.
If you are packing your camera and water in the same backpack make sure to have a sealable plastic bag so your water doesn't leak on your camera equipment.
Helpful Tips
Visit the Joshua Tree website and pick the trails you want to visit in advance.
Put the trail address in your GPS because when you get to the park the wi-fi is spotty.
It cost $20 to get in the park for the day but if you think you will be back again within a year spend the extra $10 for the $30 year pass.
Pick up a map at the entrance.
When you arrive to the park go directly to your first trail destination and get there early so you can snag a parking spot. Parking is limited and the narrow dirt roads make it difficult to get to the small parking lots with traffic. After you complete your trails then wander around and play!
Take tons of pictures BUT take the time to unplug and enjoy nature too!
Palm Springs
After daylight savings time it starts getting dark around 4:30pm. Plan on completing any trails before you lose sunlight. After your day at Joshua Tree has come to an end, pack up and make your way to Palm Springs for an overnight stay. I selected Riviera Palm Springs Hotel a retro-chic luxury hotel. They have a spa, pool, beautiful views of the mountains and cute lemon trees which give you that Southern California feel. After you get to your hotel, check in and rinse all the desert dirt from your body! I am sure you will be exhausted from the long day of exploring but if you have the energy make your way downtown (2 minute cab ride) for a bite to eat. I opted for some pasta because I needed the carbs after hiking all day. Al Dente is a delicious Italian spot downtown. If you feel like continuing on for a cocktail there are plenty of options on the main drag (Palm Canyon Drive.)
Palm Springs is known for their spas, which is one of the reasons I chose to stay at Rivera. Book your appointment in advance and spend the first part of your second day in the desert getting a spa treatment and relaxing in the steam room, hot tub and spa pool. You are sure to feel rejuvenated and your sore muscles relaxed after a few hours of pampering yourself! The last part of your day should be spent grabbing lunch downtown, wandering the shops and then enjoying an organic coffee at Koffi while sitting on the back patio which has breathtaking views and lush landscaping. Once you feel relaxed enough make your way back home from your 2 day desert getaway!
How to Plan a 2 Day Fall Getaway in The Desert/ December 1, 2016 /© Jill E. Gallien