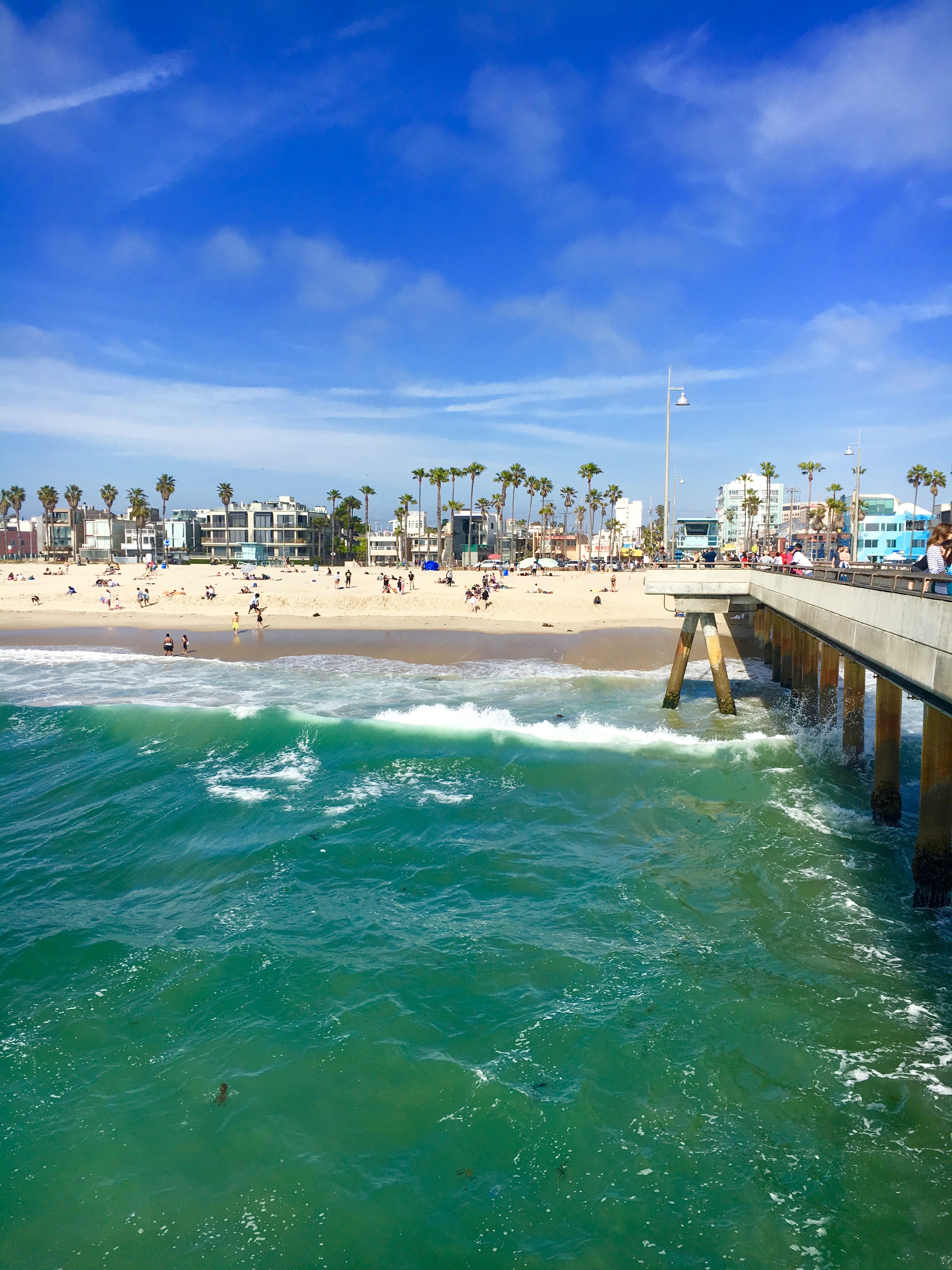 Venice, CA is one of my favorite beachfront sections of Los Angeles to visit. The vibe is eclectic from local restaurants to funky, hipster coffee shops to murals painted on the sides of buildings, the buzz you get from roaming Venice is a happy one. Established in 1905 by developer Abbott Kinney, Venice operated as an independent town until 1926 when it officially became part of the city of Los Angeles. Known for its beautiful beaches and upbeat boardwalk, you can enjoy the serene sounds of the waves crashing from a peaceful spot on the sand, or you can jump into the mix of chaos and stroll the Ocean Front Walk filled with entertaining street performers. There is much more to explore in this vibrant section of Los Angeles, so I put together my top recommendations on how to spend a day in Venice, CA.
Venice Canals
Created in 1905 by Abbott Kinney, the Venice Canals are man made interconnected waterways built to resemble Venice, Italy. The canals run through a residential neighborhood and have bridges that connect a paved walkway allowing pedestrians to enjoy a peaceful stroll!
Mosaic Tile House
Cheri and Gonzalo, an uber creative couple, turned their once average home into a work of art, covering the majority of the property with a colorful display of handcrafted mosaic tile. From the front lawn, to the bathroom and the kitchen, tiles decorate mostly everything you can image. Gonzalo builds structures like benches and creative pieces like statues and Cheri brings them to life with the intricate patterns she envisions. The enormous room in the back of the house is an impressive creative workspace that the duo utilizes for their never-ending project of covering every inch of their home with expressions of art. The Mosaic Tile House is truly a unique site to see! Visits are by appointment only and cost $15 for adults and $10 for children. If you are interested in a tour email mosaictilehouse@mac.com.
Abbott Kinney Blvd
Named after the conservationist and developer of many areas of Venice, Abbott Kinney Blvd. is a popular street lined with retail stores, restaurants and coffee shops. Local artists display their work on sides of buildings and fences making this area of Venice a visually entertaining street to walk. A few of my favorite healthy lunch spots on Abbott Kinney Blvd. that you can feel good going to are Greenleaf Gourmet Chop Shop, where you can enjoy a locally sourced meal on the beautiful garden patio and Kreation, which is an organic casual dining spot boasting an array of juices and amazing coffee (try the shakerado.)
Venice Beach
You can't visit Venice without stopping at the beach! Depending on your speed, walk the pier and bring a blanket to lay on the sand so you can soak up that California sun, or for a completely different experience, walk the famous boardwalk and be dazzled by mystical circus performers and local street vendors selling arts and crafts. Grab a cold cocktail or some grub at The Venice Whaler, a casual beachfront restaurant with a sweet patio overlooking the beach! Watch the sunset from the deck, it's the perfect way to end the day.
I hope you enjoy Venice, CA as much as I do!
How to Spend a Day in Venice, CA / April 23, 2017/  © Jill E. Gallien