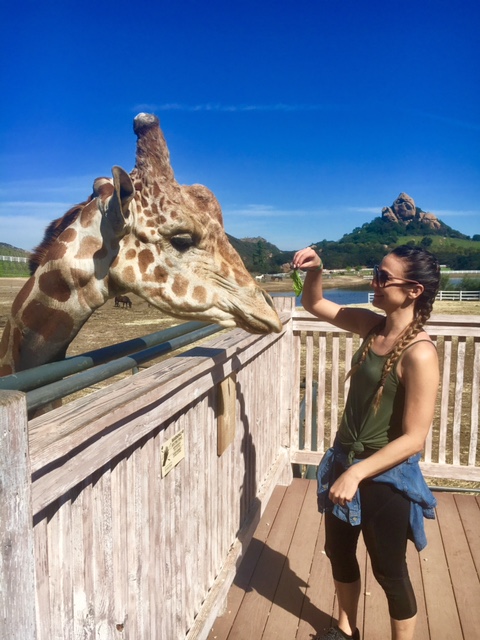 When Girls Who Hike LA planned a hiking tour at the family owned Malibu Wine Safaris, I set my alarm clock to 8am, logged in and scored my ticket to be one of the 100 girls that got to partake in the outing! I will admit the adorable picture of Stanley The Giraffe on the brochure, may have been a top factor in my desire to go on the Malibu Wine Safari! Malibu Winery customized a tour for us, which included a guided hike around the gorgeous property, a meet and greet with Stanley The Giraffe, zebras, camels, alpacas, and more exotic animals, a luncheon with fresh organic ingredients from Saddlerock Ranch's farm and of course a tasting of Saddlerock Ranch Wines. The entire property is breathtakingly beautiful with endless greenery and pops of color thanks to the spring wildflowers that have just started to bloom. The backdrop of the vineyard boasts stunning views of the Santa Monica Mountains that were admired by our group during the duration of the walking tour. The Malibu Wine Safari is truly a unique adventure! I would highly recommend this fun filled day trip for anyone in the Southern California area. Malibu Wine Safari offers a variety of tour options, which are fun for the whole family or just the adults. For more information click here: LASafaris.
Here are some photos from Saddlerock Ranch's organic farm. I have never seen dinosaur kale or artichokes before they have been picked, so this was a really fun and informative stop along the tour.
This art installation was a fun spot to stop for photo ops! It was actually a bit difficult to balance on there, but when you get a bunch of hiking girls together, you know we are up for a challenge.
I am a big time animal lover, so I got a kick out of feeding the safari animals. This may have been my favorite part of the day!
Meet Stanley! He was so sweet. Imagine having this guy as a pet?
The wildflowers just started blooming and we had a clear bright blue sky, which made for a beautiful day! I mean what could be better than a gorgeous day spent in nature with a glass of wine in hand?
After an hour and a half tour we ended with a luncheon in one of the fields and a tasting of red and white wine!
Malibu Wine Safari/ March 18, 2017/  © Jill E. Gallien