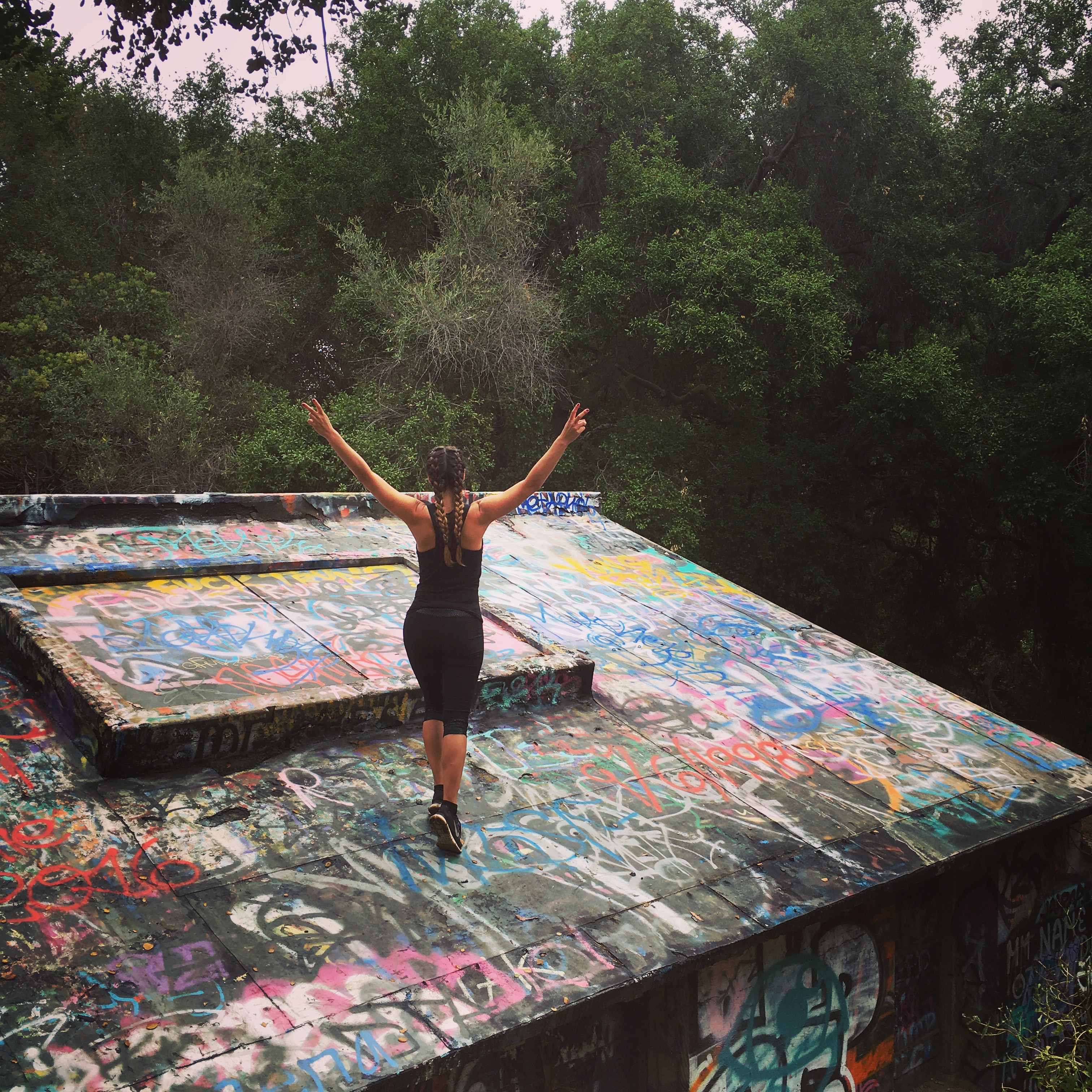 Through rain and foggy skies, I hiked Murphy's Ranch Trail, which leads to a 1930's Nazi camp hidden in the Pacific Palisade Hills that was raided and closed by the FBI in 1941. Now, it stands boarded and locked shut, covered with graffiti love from LA artists. I often hear threats of the state tearing down structures that have graffiti because of complaints from locals who think that artists ruined them.  It was the picture of the graffitied structure on Alltrails.com that sparked my interest and caused me to want to hike to find this treasure before knowing its story. I had trouble locating Murphy's Ranch after a 2-mile trek through the side trails so I searched online for tips on which path to take. It was only then that I learned of all the history in these once barren woods.
I also read on about the 1978 Mandeville Canyon fire, sparked from power lines that raged through the hills and burnt down 230 homes. Charred trees that no longer grow still stand looming in the fog, haunting the trails, reminding hikers of their devastation. While walking down a side trail I discovered what once was a road, with fragments of pavement and remnants of a curb that lead to an empty lot where a house once stood. The dreary mood set by mother nature matched the eerie gloom of the trails.
Beauty is always found on my hikes and none was spared by the rain drops that got caught in webs woven by spiders. Fields of  beige straw, with flowers speckled in between were draped by these mystical webs that I otherwise wouldn't have seen without the rain. I have to admit, I was cursing the weather until I uncovered the fascination that it unveiled.
To get to Murphy's Ranch Trail simply enter "Murphy's Ranch" in your GPS. Parking is residential. The navigation will lead you to Casale Rd. Look for parking on any of the residential streets close by like Capri Dr. or Amalfi Dr. Sullivan Fire Road starts at Casale Rd where you will see a gate. Stay on the road until you see a chain link fence with a break in it on your left side. There are 500 steps down. At the bottom go left and wander the path for about 10 minutes and you will see Murphy's Ranch. When you are done taking in the old abandoned and gratified house head back to Sullivan Fire Road. I suggest when you get back on the main road to find a break on the right side and walk on the trail that runs parallel for a true nature feel. There are some spectacular views. When you want to get back on the main road just head back to the pavement. I had fun wondering off trail and finding hidden treasures like steps that lead to a fence and a door that looked like there once was a house that may have burned down in the Mandeville fire. This hike is quite interesting and unique. I would highly recommend it if you are interested in exploring some history in the woods.
Murphy's Ranch/ June 14, 2016 / © Jill E. Gallien