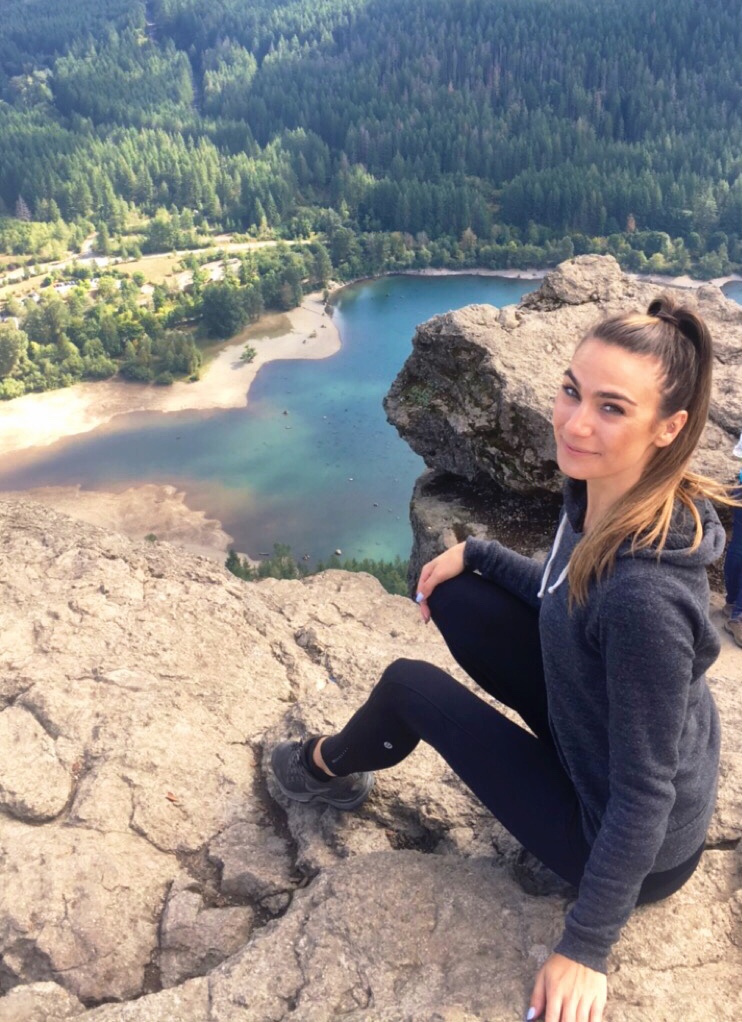 If you are visiting Seattle and looking to escape the city to enjoy the lush forest, crisp mountain air and the quiet serenity that the Washington outdoors has to offer, then make your way to Rattlesnake Ledge. This breathtaking hiking tail located 34 miles from downtown Seattle, will quickly make you forget about the hustle and bustle of the city. Moderately challenging and wildly rewarding, you will thank yourself for making the 4 mile trek into the woods when you reach the halfway point of this out and back trail. The views somehow whisk all of your worries away as you immerse yourself into nature.
The trailhead starts .3 miles from the parking lot and sits next to Rattlesnake Lake. It's highly encouraged to veer to the left and take a quick stroll by the majestic lake shores. It is here that you get a ground level glimpse of the idyllic hike you are about to embark on. After you take in the sights of this natural beauty, continue back to the trailhead and get ready to start your two mile venture up to the lookout ledge.
As you make your way onto the trail the thick, vibrantly green forest envelopes you, awakening your senses while the scent of the woods come alive. Slowly winding switchbacks guide you through the first mile of the trail as views of Rattlesnake Lake play peekaboo through openings in the trees. Be careful of your footing as tree roots and jagged rocks tend to catch your feet throughout the entirety of the hike.
Clean, fresh air fills your lungs preparing you for the increasingly difficult gradual ascent. Keep pushing steadily on through the second mile, keeping in mind that the best part of the trail lies ahead.
As you make your way to the 1.9 mile marker proceed to the right. You are almost there! The dense forest gives way to an opening at Rattlesnake Ledge. A large rock formation serves as a lookout point where hikers indulge in expansive views of Snoqualmie River Valley.  Sitting high above Rattlesnake Lake, here you can enjoy the sky level view of the aqua and deep blue water below. Take time to immerse yourself into this moment, as it is one you are sure to never forget.
After you get your fill of this priceless view, it's time to start your descent. The 2 mile trail back to the base feels significantly easier, partly because it's downhill and partly because you feel lighter after nature has stripped you of your baggage. I made my way back down with a smile stretched across my face knowing that I gained an unforgettable experience and a beautiful memory of Rattlesnake Ledge.
Rattlesnake Ledge/ October 1, 2017/  © Jill E. Gallien