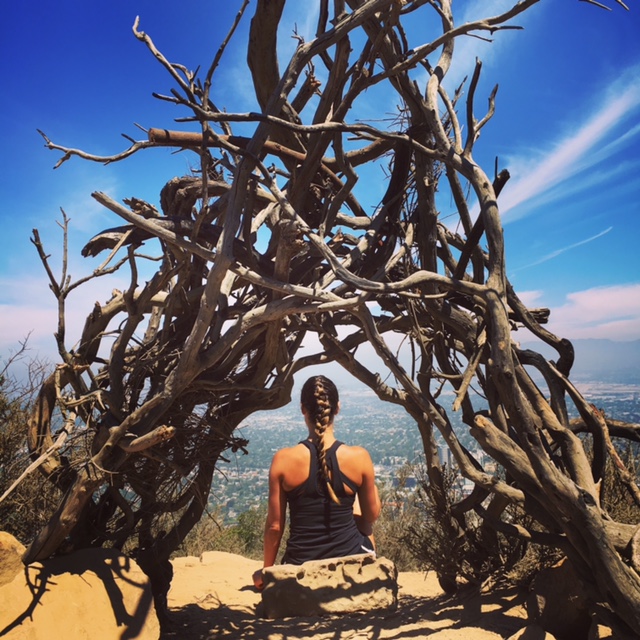 The Wisdom Tree Hike in LA is nothing short of inspirational.  This 3 mile hike is one you can't miss if you live in or are visiting LA! Put Wisdom Tree in your navigation and "Wisdom Tree – Tree of Life Trail" will come up. Take the 101 N to Barham Blvd. Then take Lake Hollywood Drive and park as close as you can to the intersection of Lake Hollywood Dr. and Wonder View Dr. Walk up Wonder View Drive until it dead ends into the trail and head on up the narrow path. Enjoy views of Lake Hollywood and DTLA. When you get to the top you will see the idyllic Wisdom Tree. Continue on for Cahuenga Peak and Mount Lee where you will see the back of the Hollywood Sign! It is about an extra mile round trip and worth the extra effort! This hike requires some scrambling but overall its moderate level. It gets very hot in the summer months and the trail offers little shade so be sure to pack enough water.
Here is my personal journal from my hike:
I can't help but feed my soul with the art past hikers crafted for others to enjoy. A tree hut stands in the shape of a triangle representing a mountain, cultivating exploration. A cushion was placed on a stone at the base of the wreath of branches as a place for hikers to sit, look out over great heights and reflect. Journals were left in a trunk beneath the Wisdom Tree should you feel inclined to spill out pieces of your journey with others. Stacks of rocks that stand in rows represent a spiritual journey and transformation felt by those who climb closer to the sky and feel a sort of awakening by looking out over it all.
Today I feel blessed to live in LA, a city filled with beauty inspired by nature and cherished by many; thankful for the people who took what God left for us and created a unique place for others to fill their spirits with wisdom, inspiration and love.
Reflection at The Wisdom Tree/ July 16, 2016 / © Jill E. Gallien