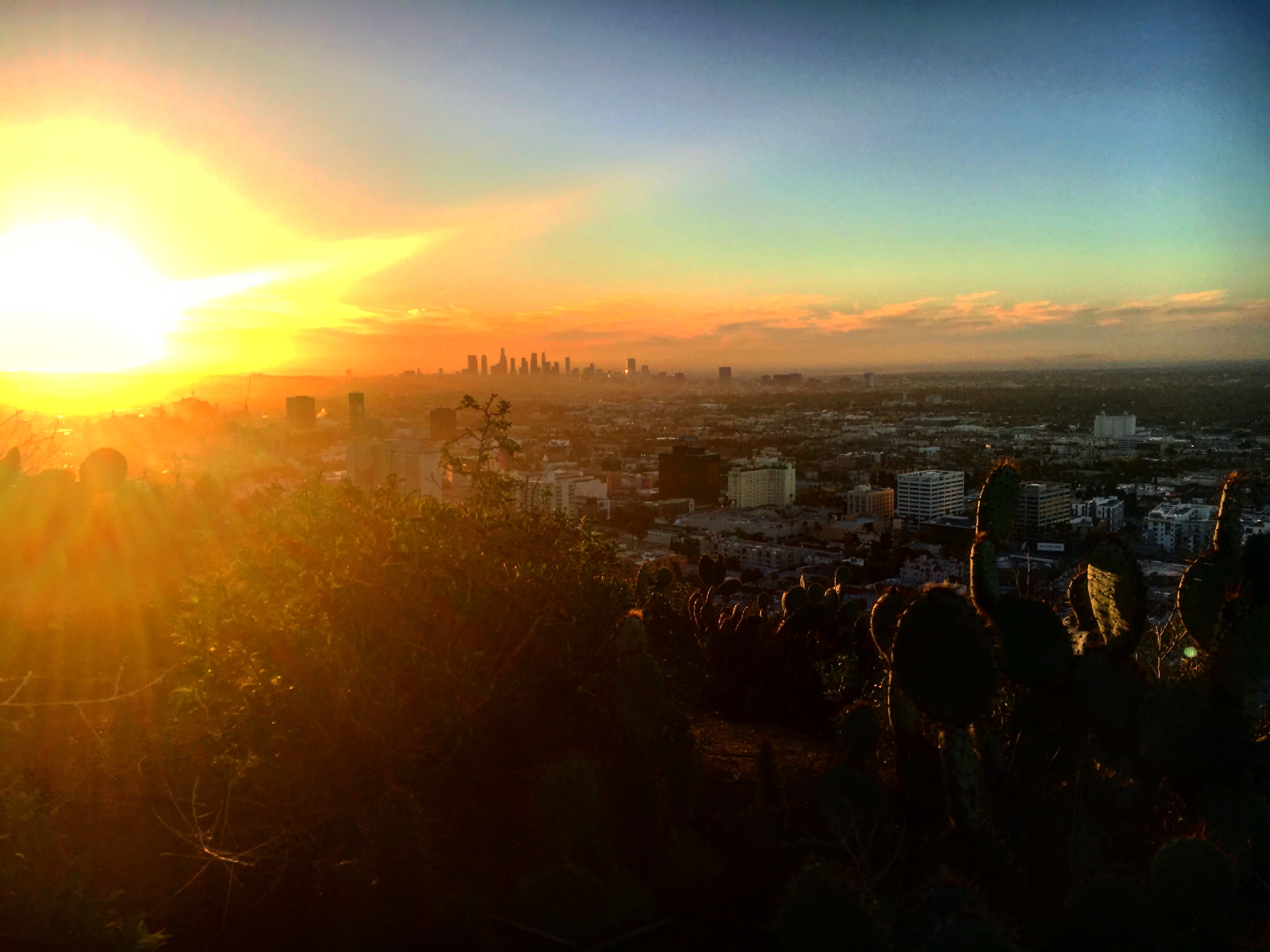 Runyon Canyon is a MUST do on your check list for LA hikes. Yes, it can be a bit sceney with lots of fabulous Instagram models snapping photos for their pages, but there is a reason why thousands, yes an estimated 35K a week* hike this trail. First off, if you live in the area Runyon Canyon is great for a quick 45 minute hike. I mean hey, why stick to indoor workouts when you can mix it up and enjoy the beautiful weather LA is known for and get some endurance in at the same time? If you are visiting LA, this is THE hike to take. Yes, us Los Angeles folk are outdoorsy, maybe city outdoorsy, but we want to enjoy the weather as much as we can, so you should too.
Another great reason to hike Runyon are the amazing views. On a clear day you can see DTLA, Century City and Mid City in one direction, and if you turn around you will see the Hollywood sign, The Griffith Observatory and The San Gabriel Mountains, which are snow capped and absolutely stunning, in the winter months. Not bad if you ask me! The endorphins released from hiking, coupled with the beautiful views, really kick up those feel good vibes.  I would say these are a few reasons why 1.8 million people visit Runyon Canyon annually*.
I recommend starting Runyon Canyon hike from N. Fuller Ave. Plug in 2001 N. Fuller Ave. in your GPS. There are three options depending on how difficult of a work out you want to get in. After entering the gate at the top of Fuller (the street dead ends into the park) select which route you want to take:
1)West Ridge Trail: shortly after you pass through the Fuller Ave. gate you will see an option to go left; do it. You will head up a short dirt trail which will lead to a paved path. Once you pass through another gate, you will want to take a sharp left, which means you are now on the West Ridge Trail. You will see a sign on your right, so you will know you are on the correct path. There is an immediate steep incline which is the first peak. After making it up this first peak, the path will level briefly, and then you will quickly be onto the second peak. If you are hiking Runyon in the summer months be sure to pack extra water; you will need it. The West Ridge Trial is the most challenging of the Runyon Canyon trails because of the steep inclines.  The views from the top are beautiful, so take a moment to enjoy it and reward yourself, because the hard part of this hike is over! Now you will begin a gradual descent. There is a bit of scrambling between rocks which will require you to use your hands and possibly scoot on your boot to get down the rocks. This is a very short scramble, but you may want to keep your hands free so yo can carefully make it down. The trail will lead you to two sets of wooden steps. After you complete the two sets of steps you will have a few options. Option 1: follow the path to the pavement and head right to make your way back down to where you started. Option 2: you can continue up the dirt trail, you will see a fork, and follow it up until you reach what looks like the end of the hike.  The path dumps you out next to the parking lot on Mulholland which is just another way to access Runyon Canyon. Once you see the parking lot on your left go to the right and enter the gate which leads you to a paved path. As you are walking the path you will notice the trail opens up.  If you go left you will be on a dirt path. This is another way down which will take you to the Fuller Ave. If you want more of a challenge, go this way. If you are ready for easy breezy then continue down the pavement route. Both paths take the same amount of time. Option 2a) back where I mentioned there is a fork in the dirt path after the steps, you will see a big tower and then you will go up some dirt steps. There will be an option to go left. This is a very short out and back walk, but it is worth the extra steps because it takes you to another lookout point. See if you can find it! The West Ridge Trail takes about 1 -1.5 hours depending on which route you take.
2) East Ridge Trail: at the beginning of the Fuller Ave entrance keep straight instead of going to the left. This will loop you to an observation area. When you see the opening take a sharp left. The trail will narrow for a brief moment and then quickly open back up to what seems like an endless amount of steps. Climb away and enjoy the views and the leg burn! Once you get to the top you will notice the Hollywood sign, which is a great spot to stop and take some photos! Once you are ready to keep hiking start walking until you hit the pavement. Continue to the left to head straight down. This will take you back to the gate you started at. East Ridge Trail will take you about 45 minutes give or take. If you want to extend your hike a little, instead of heading right down the paved path, you can opt to go right and walk up until you reach the Mulholland gate then turn around and head back all the way down the pavement.
3) Pavement Path: if you want to stick to pavement; maybe you are pushing a stroller or have small children with you, then take the easy route. Go to the left after you pass through the Fuller Ave gate and once you hit the pavement keep walking. This path is a series of slow, steep hills. Your calves will burn so you will still get a nice work out in. Take the path to the Mulholland gate then turn around and head back down. If you want to take in the views head to the right onto the dirt path at the opening and take a short stroll until you see the Hollywood sign on your left.
Option 1 is difficult. Option 2 is moderate. Option 3 is easy.  Runyon Canyon is a great city hike to build endurance and to enjoy great views of the city, The Griffith Observatory, The Hollywood Sign and the snow capped mountains! I recommend also hiking Runyon Canyon at sunrise or sunset if you want to capture some photos of the sun radiantly glowing over the city of Los Angeles.
For more information on Runyon Canyon including, hours of operation, parking, trail head entrances and dog rules please click here. For information about yoga in the park click here.
Runyon Canyon 
Address: 2000 N Fuller Ave., Los Angeles, CA 90046
*Sources: LA Times
Runyon Canyon/ February 25, 2017/  © Jill E. Gallien