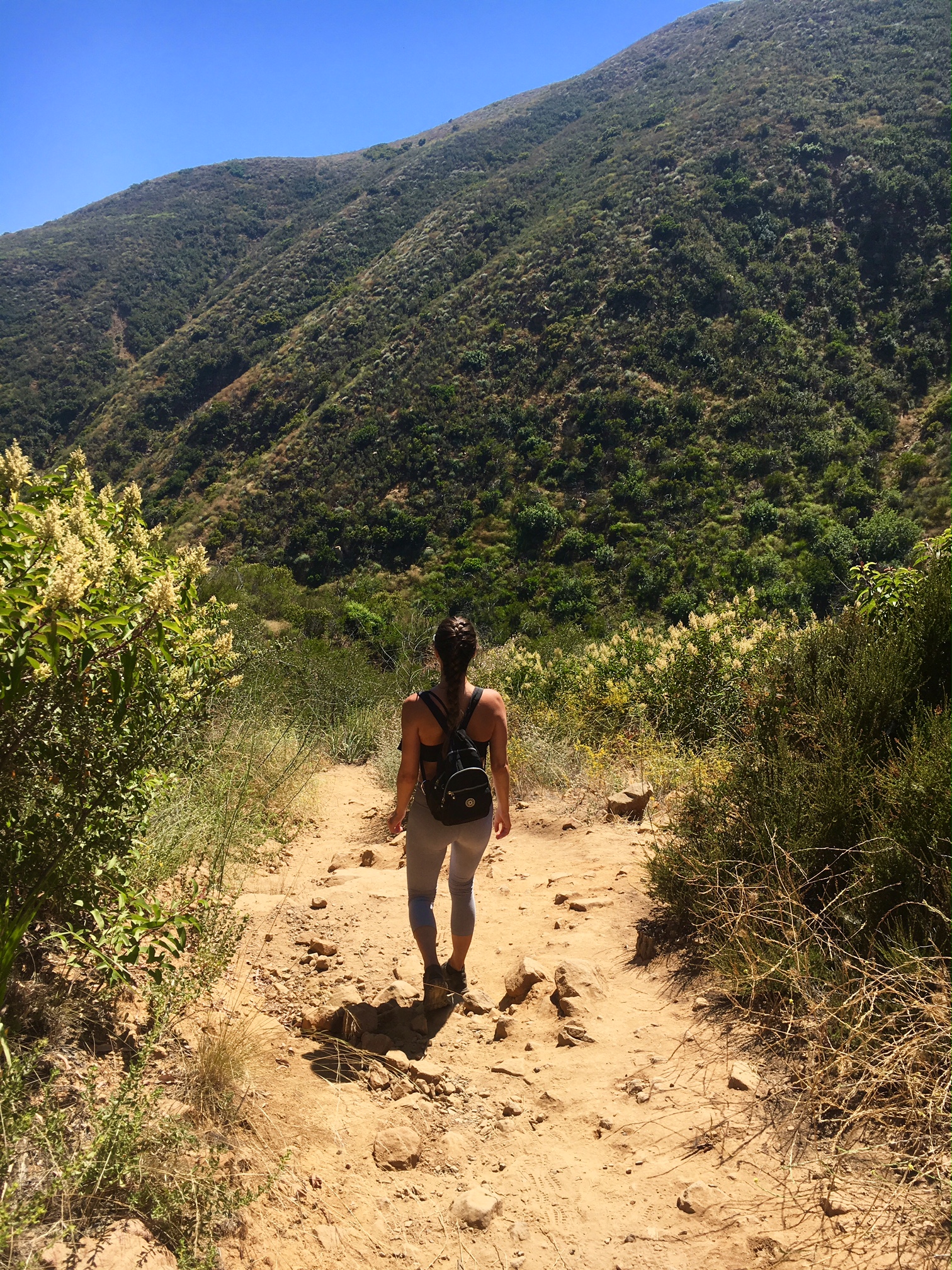 Solstice Canyon is a 3.4 mile loop trail in the Santa Monica Mountains. Located in Malibu, my favorite part of LA, this hike has some amazing views of the canyons set to the backdrop of the bright blue ocean, a waterfall and remnants of homes destroyed by wildfires.
The first half of Solstice Canyon loop trail is an easy, partially shaded walk, with breaks in the trees giving way to views of the beautiful canyons. An interesting reason to try this hike, if the waterfall hasn't sold you in, is there are remnants of historical houses that were destroyed in wildfires.  The Keller Home, one of the remaining properties you can see, is thought to be the oldest existing house built in Malibu, dating back to about 1865. Several wildfires swept through Solstice Canyon sparing only the frame. Since this house is historical you can not walk through it, however you can take a look and read about its history. There are signs on the trail guiding you to the historical homes so they are easy to find.
The Roberts Home, another house lost to wildfires, was built in 1952 and designed by Paul Williams. It was featured Architectural Digest for its stunning design. The remains of this home are located right before the waterfall and you can actually take a stroll through what's left of the property.
At about the halfway point, right after you see the fireplace, a small but beautiful waterfall sits nestled in the woods. Go off the trail up a few steps to enjoy this relaxing site. Complete with a sitting area in a cozy nook, take a break in your trek by sitting by the waterfall and listening to the serene sounds of the water flowing.  Opt for an early am hike to have the bench seating to yourself for some zen time. After all, some time nature can totally ease stress!
After seeing the homes and the waterfall you will want to continue on to the Rising Sun Trailhead. This half of the hike will take you up winding hills on a narrow path with stunning views. The Rising Sun Trail tends to be far less trafficked than the first half of the Solstice Canyon hike, so you really get to enjoy the quiet nature and breathtaking views of the canyons and the ocean. This part of the trail was overgrown when I did this hike, however it was absolutely worth walking through to see the views. It was by far the most rewarding part of the Solstice Canyon Trail!
Solstice Canyon 
Solstice Canyon Loop Trail: 3.4 miles
Trail Terrain: first half: easy, wide trail. Rising Sun Trail (2nd half): moderate, narrow, winding dirt path
Address: Corral Canyon Road & Solstice Canyon Road, Malibu, CA 90265
Solstice Canyon Loop Trail / August 19, 2017/  © Jill E. Gallien