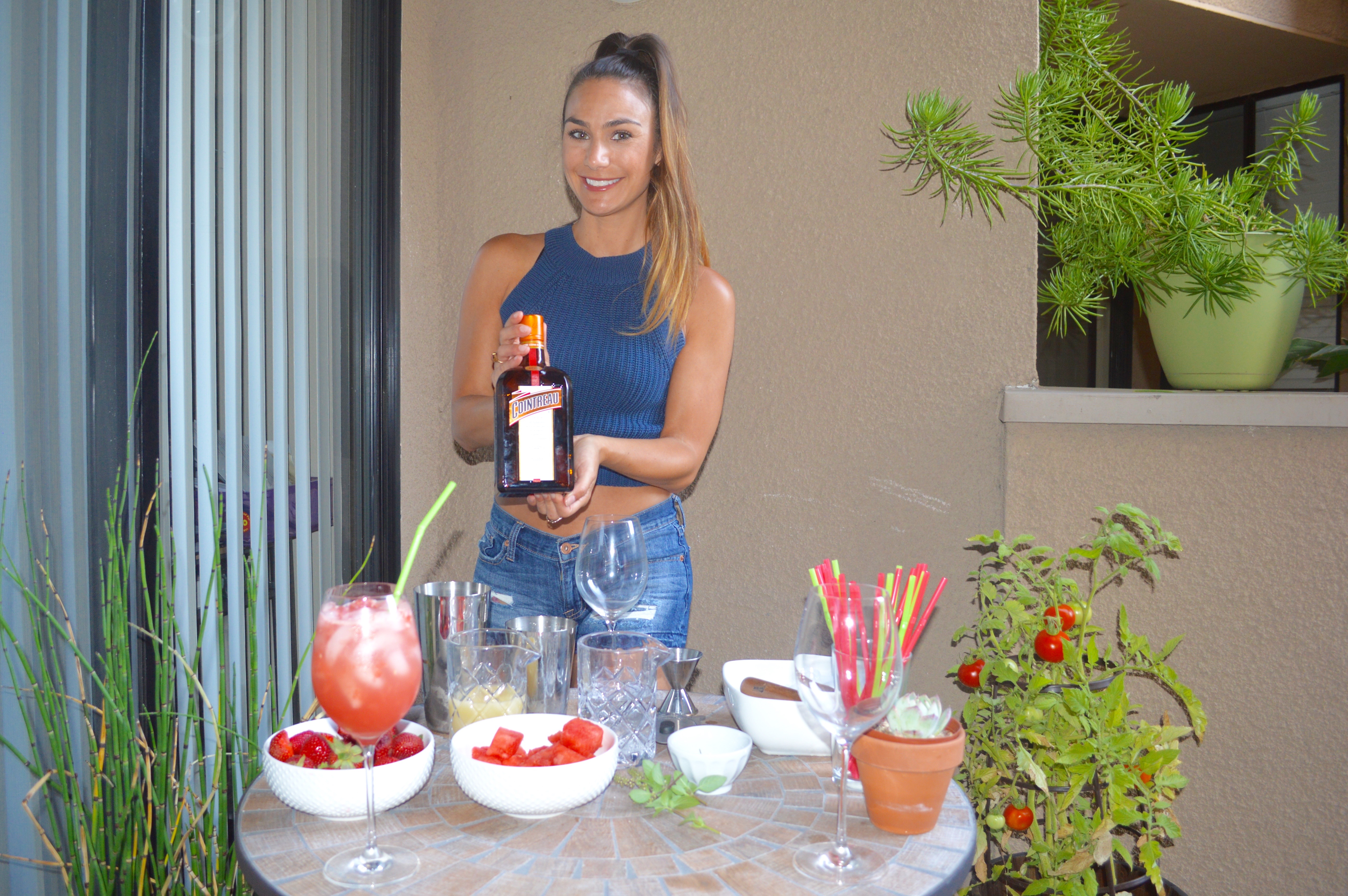 It's summertime and that means lighter, fresher, healthier cocktails are in season! Fruits and herbs are perfect choices this time of year to integrate into a variety of libations. My spirit of choice is Cointreau as the citrus essential oils are an ideal combination with an array of fruit. I was 
surprised to learn that Cointreau is 80 proof so it can stand on its own as a base spirit in a cocktail. The orange liquor opts for natural flavor, which is derived from orange peels, both bitter and sweet, and sugar cane as opposed to artificial corn syrup, so I can feel good about using Cointreau in my cocktails.
A simple, easy to make recipe using Cointreau and fresh fruits and herbs is a Cointreau variation of the Rickey, which is spirit, lime and cub soda. The recipe is great to batch in a pitcher if you are entertaining guests for a BBQ or by the pool and is also a nice treat for an after work cocktail that you don't feel bad about drinking!
Take the base: Cointreau + Fresh Lime or Lemon Juice + Club Soda and get creative with a combination of fruits and herbs like strawberry basil, blackberry mint, cucumber mint, watermelon, pineapple jalapeño, apple rosemary, etc. My favorite is the Strawberry Basil Cointreau Rickey. Follow the steps below for a single serve cocktail and feel free to increase the measurements depending on the number of cocktails you would like to make.
Bar Tools
Shaker
Muddler
Strainer
Jigger
Tall Glass or Large Red Wine Glass (Pitcher if batching)
Ingredients
2 Organic Strawberries (cut into halves)
1-2 Organic Basil Leaves
½ Ounce Organic Lime or Lemon Juice
2 Ounces Cointreau
4 Ounces Soda ( I use San Pellegrino Mineral Water)
Ice
Directions
Muddle strawberries and basil in a shaker. Add lemon or lime juice, Cointreau and ice. Shake vigorously. Fill a tall glass with ice, or opt for my favorite a large red wine glass. Strain the mixture into the glass with ice. Feel free to let in some of the chunks if you prefer them. Top with soda. Voila!
Summer Fresh Cocktails / July 30, 2016 / © Jill E. Gallien