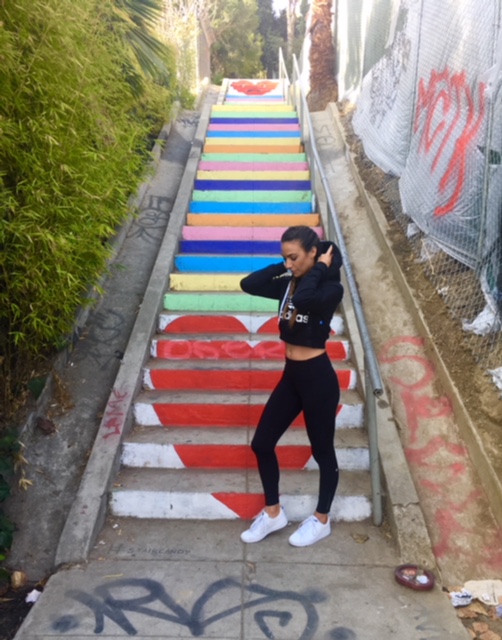 The weather in Los Angeles is pretty much perfect all year round; yeah I'm kind of bragging here but who wouldn't. The average temperature of 75 and sunny means people want to be outside more often enjoying outdoor activities like surfing, hiking and biking. While lots of locals partake in an active outdoor lifestyle, some tend to keep their traditional work out sessions at the gym. If you have been sticking to a regular gym routine, bravo to you! I mean who doesn't want to look their best in the city known for red carpets and never ending beach days, which happens to mean bathing suit season is almost all year long. While I think we can agree that everyone appreciates a set of sculpted abs, traditional gym routines can get boring! Why not take advantage of the gorgeous weather and try bringing your cardio and leg day outside for an urban workout!
Silverlake, a rather hipster area in Los Angeles known for its outdoor art, has an abundance of painted staircases to climb. These steps are more like works of art and make exercise fun. If you aren't used to steps then this work out will kick your butt! No but really, your backside will be hurting! I'm an avid hiker and going up and down stairs definitely works different muscles in my legs and bum.
The Micheltorena Stairs are my favorite steps to run up and down. Nestled in between homes, the morning shade provides reprieve from the sun, keeping you cool. This staircase has been painted with bright red hearts and alternating colors, by Corinne Carrey, providing some cheerful motivation. After you go up and down a few times you will appreciate a little extra pep in your step! This staircase (lower and upper) has a total of 218 steps.
Micheltorena Stairs
Address: 3400 Sunset Blvd
Los Angeles, CA 90026
If you are feeling extra energized then make the 1.3 mile run to the Hoover Walk Stairway and go up and down one more set of steps. This neighborhood stairway was built in 1923 and features art by Ricardo Mendoza. This staircase is a total of 38 steps but feel free to go up and down as many times as you can handle!
Hoover Walk Stairway
1652 Hoover Street
Los Angeles, CA 90026
This urban workout is not only a great way to mix up your normal routine, it's a fun way to explore some local art!
Urban Workout In LA/ Jill E. Gallien / October 22, 2017